Finding the right Spanish books for kids can be quite a challenge. This article is here to simplify that process, providing a curated list of the best reading books to learn Spanish.
As an experienced Spanish teacher, I've spent years using storytelling and cultural immersion to make learning Spanish engaging and effective to kids, teens and adults. My approach has always been about bringing the language to life.
Reading Spanish books is a fantastic way to immerse yourself in the language, exposing you to new vocabulary and structures. The books I've included in this article are all graded, meaning they're specifically written for learners. The lower the grading, the easier the book is to read.
In this article, I'll share a list of Spanish books for kids that I've personally reviewed for my students. Each book has been chosen because it's engaging, enjoyable, and serves as an effective tool for voluntary reading and language learning.
In the first section we'll explore books that are perfect for those just starting their Spanish journey.
Are you ready? Let's go.
Table of Contents
Spanish Books For Beginners
Age Group: 0-3
Author: Juan Manuel Alonso Martin, Alex Gutberlet Hernandez
In this enchanting Spanish book for kids, youngsters and beginner Spanish learners embark on an engaging jungle journey, learning animals in Spanish. Through vibrant illustrations and simple Spanish, the narrative promotes learning in context. While it's perfect for 0-3-year-olds, adult learners may also find it a playful tool for vocabulary expansion. I really liked the vibrant narrative and colorful illustrations in this book, which will encourage context-based vocabulary learning, making language acquisition a delightful adventure, not a task. A bright tool for Spanish learning, "Los animales de la selva" turns language practice into a fun, memorable experience.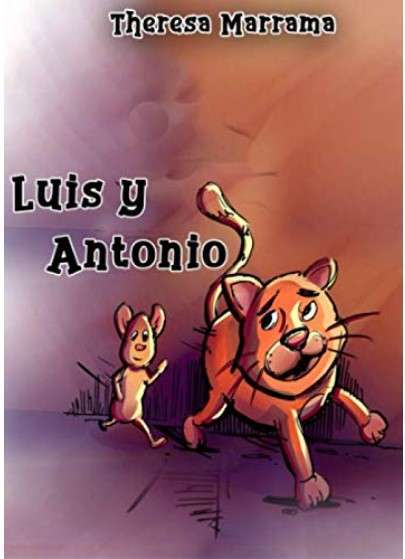 Age Group: 7-18
Author: Theresa Marrama
"Luis y Antonio" is an engaging yet accessible read for Spanish learners aged 7 to 18. This Spanish short story is about Antonio, a fearless mouse, who embarks on an adventure to find friends in an Argentinean forest, serving as a delightful guide through conversational Spanish. With an easy-to-follow storyline, lots of structure repetition,  and a useful glossary with Spanish-English word translations, this level 1 (Beginners) reader skilfully aids language acquisition while highlighting the beauty of our differences. This is in my opinion an excellent starting point for beginners on their Spanish learning journey.
Age Group: Teens, Adults
Author: Patricia Martí Torres, Margarita Pérez García
"¡Arroz con cosas!" is a Spanish book for beginners that takes you on a delightful and humorous journey to Valencia, Spain, with Remei, a 75-year-old defending authentic paella on Instagram. This is an easy-to-read Spanish tale that not only champions authentic paella, and provides insights into Valencian traditions, but also introduces beginners to useful vocabulary and cultural nuances. I found this beginner Spanish book to be a perfect blend of language learning and an engaging plot making it a must-read for teens and adults embarking on their Spanish language journey. This is a Level 1 reader, with a complete bilingual word list, that beginners can read on their own.
Age Group: Teens, Adults
Author: Veronica Moscoso
"Olivia y los Monos" is a great place to start your Spanish learning journey. I found this book to be a beginner-friendly read, that mainly uses present tense with some past tenses included in the story, facilitating the language acquisition process. Based on true events, the story offers an intriguing glimpse into Ecuadorian culture. With around 285 unique words and lots of repetition, it makes grasping basic Spanish feel more like an adventure than a chore. Plus, it comes with a handy glossary! A fun and beneficial read for any language beginner.
Age Group: Teens, Adults
Author: Olly Richards
I found this book offers a good blend of learning and leisure. This book is suitable for upper beginners to low intermediates. It combines eight captivating tales across various genres with authentic dialogues. Its unique features like a bilingual word list, comprehensive plot summaries, and post-chapter comprehension questions make this Spanish book useful for teens and adult learners. This is a good learning resource for expanding Spanish vocabulary and improving conversational skills, without the stress.
Buyer's Guide: Choosing the Right Spanish Books for Kids
As a native Spanish teacher with years of experience teaching children, teenagers, and adults, I understand the importance of choosing the right learning materials. The right Spanish books for kids can make learning Spanish an enjoyable and rewarding experience. Here are some key factors to consider when looking for the best books to learn Spanish:
1. Age-Appropriate Content: Look for Spanish language books that are suitable for the age of the learner. For children to read books in Spanish, they should have engaging illustrations and simple sentences. For teenagers, the content can be a bit more complex and include real-life scenarios that they can relate to.
2. Clear and Simple Language: Spanish books for kids should use clear and simple language. It should explain grammar rules and vocabulary in a way that's easy for beginners to understand. Avoid books that use complex jargon or overly academic language.
3. Progressive Learning Structure: The book should have a structure that gradually increases in difficulty. Easy Spanish books start with the basics and slowly introduce more complex topics. This ensures that the learner isn't overwhelmed and can build on their previous knowledge.
4. Cultural Context: Good Spanish books for kids should also provide cultural context. This will give the learner a deeper understanding of the language and make learning more interesting. Look for authentic Spanish children's books books that include information about Spanish-speaking countries, their customs, and traditions.
5. Exercises and Practice Questions: Practice is key in language learning. And while not all books include this, a good Spanish book for beginner learners should ideally include exercise and practice questions to reinforce what has been learned. It's even better if the book provides answers or solutions for self-assessment.
6. Audio/Visual Aids: If possible, choose a book that comes with audio/visual aids. These can greatly enhance language learning by helping with pronunciation and listening skills. They also make learning more engaging and fun, especially for children and teenagers.
7. Glossary/Index: A glossary or index can be very helpful for quick reference and review. It makes the book more user-friendly and aids in revision.
Remember, every learner is unique. What works for one might not work for another. Therefore, it's important to consider the learner's individual needs, learning styles, and interests when choosing a book.
Learning a new language should be an enjoyable journey. With the right book, you or your child can have a rewarding and fun Spanish learning experience. ¡Buena suerte! (Good luck!)
Final Words on Spanish Books
Choosing the right Spanish book as a learning resource can significantly enhance your language journey. I hope this guide has made that choice a little easier for you. Remember, every book is a new adventure in your language learning journey.
If you found this article helpful, don't forget to check out our detailed guide on teaching basic Spanish to your child at home. It's packed with practical tips and fun activities to make language learning enjoyable and effective.
FAQ
What are Spanish books to read for beginners?
Spanish books to read for beginners are specially designed books that help individuals learning Spanish to improve their language skills. They are written in a way that makes it easier for beginner learners to understand and use Spanish vocabulary and grammar. These books often include translations, footnotes, and other helpful features to aid comprehension. They are an excellent resource for anyone looking to enhance their Spanish reading and comprehension skills.
What are the key features of Spanish books to read for beginner learners?
Spanish books to read for beginners come with several key features designed to aid language learning. They often include vocabulary lists, grammar explanations, and exercises to practice what you've learned. Some books also have cultural notes to provide context and enrich your understanding of the Spanish-speaking world. Additionally, many of these books are graded according to language proficiency levels, making it easier for you to find a book that matches your current skill level.
How do Spanish books for learners compare to other language learning resources?
While there are many resources available for learning Spanish, such as language apps and online courses, Spanish reading books offer a unique advantage. They provide an immersive reading experience that helps learners understand the context in which words and phrases are used. This can lead to a deeper understanding of the language. Moreover, they allow learners to progress at their own pace, making them a flexible learning tool.
I'm a beginner. Can I use Spanish books to read for beginners?
Absolutely! Spanish books for learners are designed for all proficiency levels, from beginners to advanced learners. Beginner-level books usually have simpler vocabulary and shorter sentences, making them perfect for those just starting out. As your proficiency improves, you can move on to books with more complex language and themes.
Are Spanish books for learners good value for money?
Yes, they are. Spanish reading books for learners offer a cost-effective way to improve your language skills. They provide comprehensive language learning resources that you can use over and over again. Plus, they're often cheaper than language courses or private tutoring.
What if I have trouble understanding something in the book?
Don't worry! Many Spanish books for learners come with additional resources like glossaries, grammar explanations, and online support. You can also use a Spanish-English dictionary or a language learning app for extra help. Remember, it's normal to encounter difficulties when learning a new language. The key is to keep practicing!
I've finished my book. What should I do next?
Great job! If you've finished your book and feel comfortable with the content, you might consider moving on to a book at a higher proficiency level. Alternatively, you could explore other Spanish language resources, like movies, storytelling videos, podcasts, or language exchange programs. Keep practicing and challenging yourself, and your Spanish skills will continue to improve!
Looking for more ways to engage your little ones with the Spanish language? Don't miss our articles about Colors in Spanish For Kids and Spanish Coloring Books For Kids, both are chock-full of creative ideas and activities, making Spanish learning at home a joyful experience.